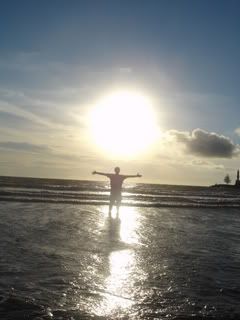 I woke up this morning with sand between my toes.

I was in Miri for the weekend, flew all the way there with 3 other friends just to catch the Miri Jazz Festival. Truth be told, I left KL with some reservations. Now that I've been there and back again, I can say I'm in love.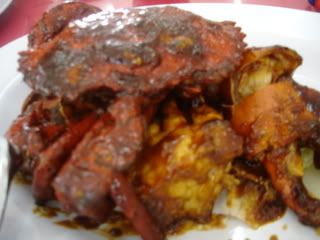 We had seafood for lunch and dinner for two days. The prawns are huge and fresh, the crabs are succulent with roes abound, the squids are sweet and fleshy. Rice and vegetables became garnishings to our seafood fest.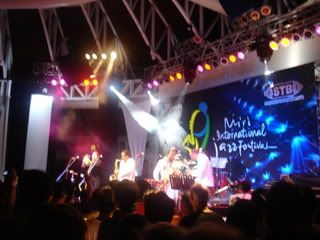 On Saturday, we didn't do much besides driving around and getting lost in the small town with many one-way-streets. Later in the evening we went to the Parkcity Everly Hotel for the Jazz Fest. We arrived quite early, and so managed to see the sunset over South China Sea. The performers were highly entertaining. One of the bands (which I shall not name) even sang suggestive lyrics! Great fun we had, we only left the garden party around 1am.

Yesterday, we went to the handicraft shops around the city centre, and went to see the outskirts of the town as well. Then just before heading for the airport, we decided to stop by the beach nearby Marina Bay/Luak Bay. It was the best 45 minutes of my trip. The beach was empty save for us, the wind had an almost gale-like quality to it, and the water was cool beneath my feet. The four of us took pictures and videos to try and capture that moment. I doubt we succeded, but at least it will remind us of that moment.

Well I'm back in the office clearing mails the whole morning, delegating this and escalating that, coordinating this and orchestrating that. Life resumes as normal for me.

Me, I'm going back to Miri just for the sand, surf and sun.

I think the sand is not just in between my toes, I guess it's in my heart as well.