This is my first post using my spanking new internet connection at home! Using my new Aspire 4920 no less, hehe.

Anyway, I'm way overdue for this posting. I know I promised someone I would blog about it ages ago, so here it is.

I decided to cook for my girlfriend last weekend. I scouted around for a simple recipe that I think I can make, simple yet tasty. After some deliberation, I decided on the following menu:

Starter: strawberries dipped in chocolate, chilled.
Main course: chicken parmesan with steamed baby potatoes and seared cherry tomatoes.
Dessert: peach melba.

It turned out well, and the kitchen miraculously escaped unharmed for the most part. Since I'm a huge fan of the food channel on Astro, I decided to make use of whatever I gleaned from it. So how did it turned out? You tell me.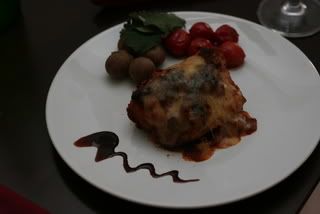 Does it look like anything Gordon Ramsay might churn out from his kitchen? Haha.




I substituted the raspberries in the recipe for strawberries instead since I can't find any. Cold vanilla ice cream topped with warm peach melba. Sinful!




Since we don't drink, apple juice came closest. Presented in tall green bottles and served in wine flutes, sure looked the part.

Well, she loved it and I'm glad it did turn out like I imagined it would be. After all the trouble of getting the right menu, ingredients, napkins, cutleries and presentation, I would be stumped if it turned south. Relieved, is an understatement.

Then again, I would be in trouble if I can't outdo myself next year!