As of yesterday, I am the proud owner of my own house!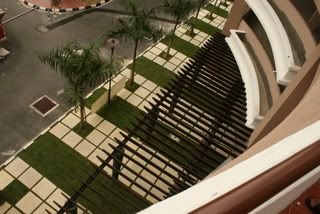 I went to inspect the house yesterday with Arin (he was a property valuer before taking up postgrad studies, he knows this stuff), and subsequently collect the keys and the CF. After inspection, the main defects we found were the faulty front door lockset and the sliding door not installed correctly. The rest are mostly uneven paintjob. So I've filled up the defect list and submitted it to the developer. It will get done in 2-3 weeks' time. After that I'll start sourcing for cash to pay for grille, lighting and air conditioning installation, phew.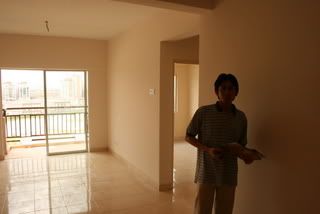 Anyway, I love the house! The size is just nice for me, not too big that I can feel the emptiness (I'll be staying on my own, no I won't rent the rooms out to anyone) nor too small that I feel cramped. The location of my unit faces Pandan Indah/MRR2, and none of the windows (including the kitchen/yard) faces other unit directly - privacy is assured for me.

After finishing the inspection, we went down to the 3rd floor where the amenities are (G, 1st & 2nd are parking bays). The pool seems sizeable enough, the gym is a bit small but well equipped, the multi-purpose hall is big enough to hold a function for say 150 people and there's units of shops and a cafe too.

Suffice to say, I am satisfied so far with what I'm getting for my money. It's a good location, rental rates are higher than monthly loan repayment, the unit has got a very good airflow, the security is good (hopefully they can maintain it) and best of all, I am a homeowner before I turn 25!